Just beside
romantic Perak River
is an old town.
As you sip your cuppa Ipoh white coffee in
the
Hainanese
coffeeshop, its quite all right to reminisce about the especially short & noisy Japs whizzing by in broken Jeeps on the way to quell yet another communist skirmish near beautiful Kampar.
Yeah, about
that
"
she should not have been there that night
...then everything would have been....eerrrr...u know...", that kind of thing.
you know ah...last time when we were younger...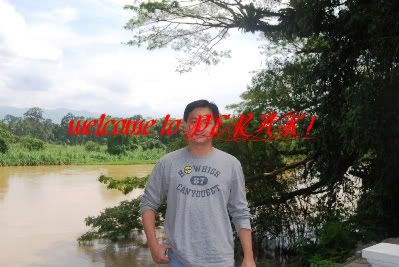 mandatory traveller's pose along the river bank (
for city g/f to see
)
tai lok meen
( big noodles ) , or Hailam Mee
RM3
saucy and chicken meated for a hearty flavor
a simple & popular Malaysian fried noodles served hot
mun fan
("mixed vege rice" )
RM3.50
, popular with everyday workers as a complete filling meal. A quick stir fry saucy brew poured over steamed rice , with whatever leftover meats and greens (
we think
) the chef has on hand. A classic
budget gourmet
Chinaman concoction. Superb tastes. Exact color tone may vary from state to state.
* Yi Fatt ( town centre )
( admission is free )
Parit ( off Bota Kanan )
Perak
*
a
bsg
Malaysian gastonomic heritage site